Elaborate tasting menus and fine dining dominate the annual World's 50 Best Restaurants list but it's a different story with the Latin American edition of the awards. The top spot for 2018 did go to Lima's Maido for the second year running (15-course menu £103), but further down the list there are plenty of restaurants offering great cooking at much more affordable prices. Here are 10 of the tastiest bargains around.
Narda Comedor, Buenos Aires, Argentina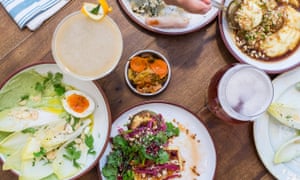 #46 on the Latin America list
In her native Argentina, chef Narda Lepes is a familiar face thanks to her appearances on high-profile TV shows over the past two decades. However, Comedor, open for just a year, has given her a new platform to encourage beef-obsessed Argentinians to put greens first. While it isn't exclusively vegetarian, Comedor's bargain (£7.60) two-course lunch menu incorporates cereals, legumes and protein in each abundant and vibrant main– and also discreetly injects a healthy portion of veg. It's a well-lit space with Scandinavian-style airiness and clever furnishings, such as chairs with built-in storage for bags, and its opening hours (Mon-Sat 8.30am-11pm, Sun 8am-8pm) ensure Comedor is busy from breakfast to dinner with Narda fans, families and office workers.
• Mariscal Antonio José de Sucre 664, Belgrano, +54 9 11 6131 0664 (reservations via What'sApp only), nardacomedor.com
Proper, Buenos Aires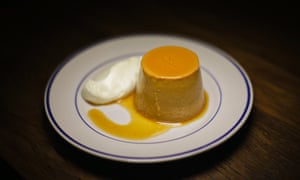 #44 on the list
In an anonymous-looking former mechanic's workshop in Palermo, dynamic young duo Leo Lanussol and Augusto Mayer deal in the best of Argentina's seasonal produce with a daily-changing menu. "We're a small restaurant with a large structure," says Mayer. A wood-fired oven is the centrepiece of open-plan kitchen, with elements of every dish cooked over flames: grilled squid, broccoli and bean aioli, say, or roast leeks with cauliflower mash (both (£4.30) – it's small plates for sharing, and some tables are communal. Leave room for the crème caramel, a dream of vanilla and dulce de leche caramel (£2.80). Proper also has a strong natural wine list. No reservations.
• Aráoz 1676, Palermo, properbsas.com.ar
Gran Dabbang, Buenos Aires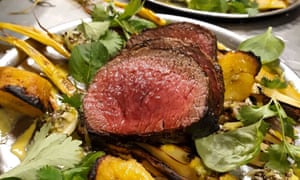 #38 on the list
A new entry on the 2018 list, this hole-in-the-wall spot on a busy avenue in Palermo serves a riot of authentic Asian flavours made with Latin American ingredients. Chef Mariano Ramón has worked in kitchens in India and south-east Asia, and puts every ounce of energy into Gran Dabbang, often four seatings a night. With 10 small-ish dishes designed for sharing, such as chard pakora with carrot chutney and sriracha (£4), rabbit marinated in fresh turmeric (£6) and lamb curry smoked in black spices and chilli (£6.95), a hungry table of two can sample the entire menu. No reservations.
• Avenida Scalabrini Ortíz 1543, Palermo, grandabbang.com
Parrilla Don Julio, Buenos Aires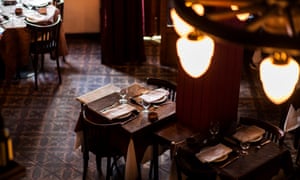 #6 on the list
Booking is essential at this meat-heavy parrilla (grill) which picked up two awards in 2018's Latin America 50 Best: for the art of hospitality and as Argentina's top restaurant. Grass-fed beef, house-cured charcuterie and meticulous product selection ensured its place at the top; it also has one of the country's most carefully curated wine lists and cellars. In this former butcher's shop, still sporting the original tiled floor, parrillero Pepe Sotelo tends the grills, and the exposed brick walls are lined with loving messages scrawled upon empty malbec bottles. Share lamb longaniza sausage (£3.75) and grilled goat's cheese provolone (£6.30) before moving on to mouth-watering rib-eye (£14) or a leaner rump steak (£13.70).
• Guatemala 4691, Palermo Soho, +54 11 4831 9564, parrilladonjulio.com
El Chato, Bogotá, Colombia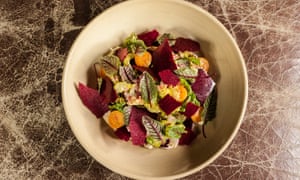 #21 on the list
This is the highest new entry on 2018's Latin America list, a place where chef Álvaro Clavijo cooks with unpopular or little-known Colombian ingredients – and creates unusual dishes such as beef tongue with hormigas culonas (leaf-cutter ants). After honing his skills at New York City's Per Se, he overhauled a dilapidated Bogotá house to open this bistro in the Chapinero Alto district three years ago. Working with small producers is key to his cooking, and star dishes include crab salad with chipotle mayonnaise, mango and avocado topped with squid ink-tinted rice chips (£6) as well as the tongue with watercress and ants, which add a light spicy kick (£6.25). Lunch specials such as beef short ribs with leek chimichurri and coconut rice also cost around £6.
• Calle 65 #3b-76, Chapinero Alto, +31 743 9931 elchato.co
Leo, Bogotá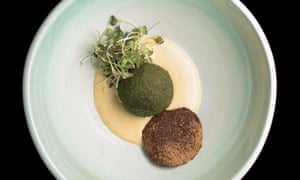 #10 on the list
The first female chef to break the LatAm 50 Best's top 10, Leonor Espinosa spotlights Colombia's biodiverse ecosystems in her eponymous fine-dining establishment, using ingredients sourced from the Andes and the Amazon basin. Peach palm and camu camu fruit, leaf-cutter and Santander ants, tallo leaves, caiman and capybara are some of the lesser-known treats in store on her impeccable Ciclo-Bioma, menu, created in conjunction with sommelier daughter Laura Hernández-Espinosa. Pairings include a fermented coca leaf spirit made by an indigenous community and craft quinoa beer. Twelve courses in a restaurant as elegant as its chef-owner cost £43.
• Pasaje Santa Cruz de Mompox, Calle 27b #6-75, Centro, +571 283 8659, restauranteleo.com
La Mar, Lima, Peru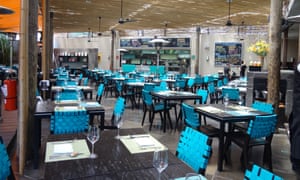 #17 on the list
La Mar is his most successful venture by chef Gastón Acurio, creator of Peru's contemporary food movement, who now has a chain of restaurants spanning the Americas. However, it this cebichería in Lima that has been in the LatAm's 50 Best for the past six years. Inspect the day's various catches at the seafood bar before settling in for lunch; La Mar only opens from noon to 5pm, ensuring that morning's sustainable Pacific products make it into cebiches (from £11), crab empanadas (£3.20) and sashimi (from £4). Whole baked lenguado (sole) in black butter and garlic (£21.50) is ideal for two or three to share, or bib up and prepare to get messy cracking open whole crab (£16.30). No reservations.
• Avenida La Mar 770, Miraflores, lamarcebicheria.com
Isolina, Lima
#13 on the list
Spread over several floors in the boho Barranco district, and sporting plenty of wood and colourful ceramic floors, Isolina takes a fresh look at Peruvian comfort food. Chef José del Castillo opened the taberna three years ago and was an instant hit with nostalgic limeños for his updated to hearty classic dishes. For a quick bite, grab a seat near the ground-floor bar: serious eaters should head upstairs to table by an open window, to devour an array of surprisingly tasty offal. Beef brain tortilla with liver and onions (£8.70) and cau cau con sangrecita (tripe and potato stew with fried blood, £10.30) are two such delicacies; squeamish diners should choose lomo saltado (a typical beef stir fry, £13.30) or escabeche de bonito (brined tuna, £6.90). Call ahead to book (weekdays only) or prepare to queue.
• San Martín Prolongación 101, Barranco, +51 247 5075, isolina.pe
A Casa do Porco, São Paulo, Brazil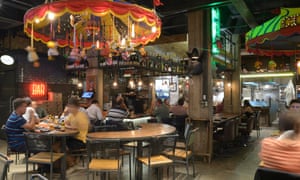 #7 on the list
Pork lovers will adore butcher-turned-chef Jefferson Rueda's creations: he cooks with free-range meat only at his "House of Pig". Rueda uses every last morsel to create cold cuts and charcuterie, melt-in-the-mouth aged tartare with bone marrow and mushrooms, bão with fermented radish, pork belly, jowl sushi and blood sausage. "Six versions of pork" includes bacon, pancetta, suckling pig and tongue (£15). It's a lively, casual spot, decorated with piggy paraphernalia – porcos really do fly (from the ceiling). The best way to pig out in this hog heaven is the 15-course tasting menu (£23), but there are much the cheaper dishes, such as a hot pork sandwich (£5).
• Rúa Araújo 124, Centro, +55 11 3258 2578, on Facebook
Restaurante 040, Santiago de Chile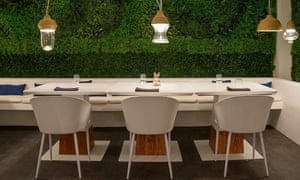 #43 on the list
This fine-dining establishment is inside a boutique hotel in Santiago's boho Bellavista district. In this elegant setting, Spanish chef Sergio Barroso Urbano plays around with Asian and Chilean ingredients, applying haute-cuisine techniques in his elaborate 12-course tasting menu (£44). One course might mix sweet with umami, such as garlic and toasted almond ice-cream, while a nikuman – steamed meatball bun – comes with creany pepitoria sauce, in a nod to his motherland. Six wine pairings accompany the menu. Afterwards, ask to see Room 09, its sister speakeasy bar.